The growth of the Jahnel Group in eight years has been a steady line, not a jagged series of spikes, and the two brothers who founded the company credit its internal culture for this.
Software engineer Peter Hodges happens to be the new hire that tipped JG from 99 to 100 employees, but he's just one of 30 people to come aboard so far this year, a remarkable record amid a crisis that's knocked the economy and many companies for a loop.
Darrin and Jason Jahnel said the reason their company didn't lose much business this year is that it was not working with the industries that have suffered, such as hospitality, travel and retail.
The reason it gained business is that it has proved itself to clients, so they keep hiring it for new projects, for which more people are needed.
"We don't need to add 20 clients to add 30 new people, we need to add seven new clients, because we're growing in the footprint," Darrin said.
The company has received assistance from the county and state in managing its growth and space needs. It long ago outgrew its offices in a former mansion in the Stockade neighborhood and relocated this year to leased space above the Frog Alley brewery. It has a small presence in New York City and Dallas and would like to add an Atlanta office.
Darrin and Jason, chief executive officer and chief operating officer respectively, plan to add 30 more employees in 2021, and have an eventual goal of reaching 300. The number (inspired by the films about the same number of Spartan warriors) won't take terribly long to reach at the current rate.
That level of growth presents a challenge, though, as the larger any group of people gets, the less-cohesive it potentially becomes — there are only so many social relationships the human mind is cognitively able to maintain.
Darrin and Jason acknowledge the risk of success leading to growth that strips the company of what made it successful, but say that's being addressed by people like Jessie Zweigenthal, who was employee No. 1 back in 2012 and is now director of employee engagement.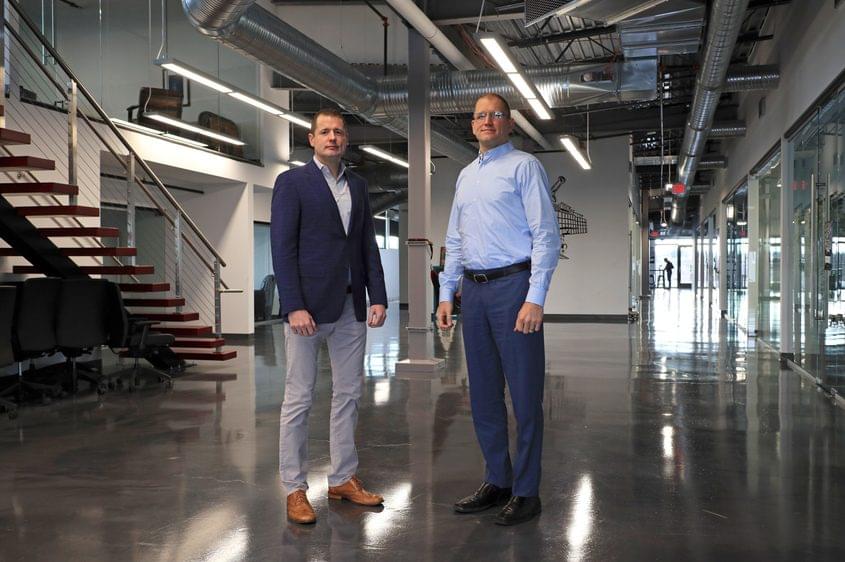 Jahnel employs extensive use of team-building exercises and group activities to make the workforce a connected community, as well as personal self-challenges to help the members of the community build themselves. These are not, as one might guess, dry webinars or study packets, they're designed to be fun. And there's a huge new industrial-chic office to work in. With beer in the kitchen.
Couple this with flex time, profit sharing and other benefits, and a picture emerges of a great place to work for someone who fits that culture. That is by far the key precondition to being hired: being a likely fit for the culture. JG has brought in candidates as unlikely as the two brothers themselves were for their first software jobs — people working in supermarkets, book stores, restaurants — and seen them thrive as part of the culture.
The company has 10 employees whose role is not to bring in revenue but to maintain a culture that makes people want to work there, Jason said, and it will add more of these as the workforce grows.
Darrin likened it to a basketball team recruiting top players.
"When it comes to software creators, I don't think the majority of businesses treat the stars the way we treat star athletes," he said.
"That's really how simple our business model is. We are world-class at recruiting the best software creators and putting them in an environment where they're happy. And once you have the best people and they're happy, well of course the clients are going to be happy and they're going to want more. It's that simple."
There was a three-year stretch with only two voluntary departures from the JG, a record almost unheard-of in the industry, Darrin said.
Darrin, 44, of Schenectady, and Jason, 46, of Niskayuna, grew up in Rotterdam as third-generation Schenectady-area residents. Their grandfather arrived from Germany in the 1920s and went to work at age 13 at Barney's department store on lower State Street. The old-time "Barney's" ghost sign painted on the brick wall decades ago is visible from the offices of Willy Jahnel's grandsons, directly across the intersection of State and Ferry streets.
The boys played video games growing up, of course, but they were basketball fanatics, not computer enthusiasts.
"We were always good at math, we had that logical mind, but we didn't know it because all we cared about was basketball," Darrin recalls.
After college, as they separately cast about for a career, both still lacked any affinity for software development.
A friend connected Darrin with the Depository Trust Company in Manhattan and a crash software-writing course, and he worked there from 1998 to 2005. Jason followed, also with the need to learn quickly.
"It was where determination meets opportunity," Jason said.
In 2005, the brothers left DTC and came home to form Knowledge Wand, an educational software company. Its biggest title — Samson's Classroom, a tool for teaching early readers — still has users today. But the company itself never gained momentum.
"We could never get over the hump with that business," Darrin said.
(A key factor was that Knowledge Wand needed a large and increasing number of small sales to survive and grow. Selling software to school districts is hard and the company never got particularly good at it. JG, by contrast, relies on a small number of big-dollar projects and enjoys a significant number of repeat customers.)
As Knowledge Wand struggled, the Jahnels would periodically get (and reject) requests for freelance work from people who knew people who knew them.
When they finally formed their new software firm, they took on as their first job one of those prior requests, for a 100-hour project. The company that commissioned it is still a client today, and 28 JG employees work on its projects.
(Jahnel Group doesn't name current clients. Previous clients have included Google, MIT and Bethesda Game Studios.)
Early on this year, as the pandemic spread, the company took some hits to its business on the ServiceNow cloud computing platform.
Those were more than outweighed by the fact that the company was heavily involved — through luck rather than strategy — in industries that thrived during the pandemic, such as gaming, telemedicine and government services.
Internally, JG handled the crisis as smoothly as possible. It shut down its soaring new space in the Mill Lane Artisan District one afternoon and restarted from employees' homes the next morning.
Nine months later, the office still operates at only a fraction of capacity, which presents another challenge — remotely instilling the company culture within the 2020 hires.
"Whereas normally it's a full indoctrination when you get here," Jason said, "we probably have like 20 people who've never been in the same room with a Jahnel Group employee."